Deployment
Cloud
symphonyX on Amazon Web Services (AWS) cloud guarantees almost 100% uptime for your application and services. Unlimited bandwidth, multilayer protection, automated data backup, timely software upgrades and quick troubleshooting allow you to focus on education rather than worrying about application availability and performance.
Technology
symphonyX has been written in Angular, giving you a state-of-the-art user interface and navigation experience. The Java Spring technology and Amazon Aurora MySQL database manage the application logic comprehensively. Docker and Kubernetes technologies let symphonyX components run in their respective containers, well synchronized for large volume of transactions.
Training
symphonyX comes with e-learning tutorials which can assist all users to derive the best benefits from the application. Assistance for any situations encountered during application use is available at the click of a button. Online chat support is provided in symphonyX for further assistance, so the user is never found helpless.
Integration
APIs supported by symphonyX provide distinct possibilities for end-to-end integration with existing institute academic ERP or custom-made software suites. The integration begins with migrating student registration data into symphonyX at the beginning of the semester and exporting grades generated by symphonyX back to the ERP at the end.
Web Protected
A web secure application, symphonyX is CERT-In certified (https://www.cert-in.org.in), WASC 24 secured, and tested for OWASP top 10 threats worldwide. OTP based authentications gives enhanced security to the application. We use SHA-1, SHA-256 encryption of passwords, and critical data AES encryption for user data.
Reliable
symphonyX is a solution with proven stability and scalability to handle large traffic and transactions. The application is designed to avoid SPOF (Single Point of Failure) with server clustering. Quick response time and load balancing helps manage large traffic and transactions. The industry standard 'Docker' and 'Kubernetes' technology adoption keep downtime minimum.
Mobile APP
Users can use the symphonyX mobile app to remain in touch with all classroom activities. The mobile app provides a user experience with creative navigation and access to information with intuitive selections. Users can respond to symphonyX notifications and alerts instantly.
Subscription
As a cloud service, use of symphonyX is based on annual subscription plans based on the count of the students and number of modules subscribed. This provides flexibility to the institutions to implement symphonyX as per their need, and pay as they use.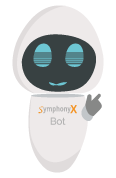 Still have questions? Download our e-Brochure or contact us for further details