Privacy Policy
Data protection is a matter of trust and protecting your privacy is very important to us. symphonyX has accordingly developed this Privacy Policy to protect our customers' information and keep it confidential. symphonyX will only collect information where it is necessary for us to do so and we will only collect information if it is relevant to our dealings with customers. symphonyX's privacy policy is subject to change without prior notice and to make sure that our customers are aware of any changes, they should review this policy periodically.
Session Data
symphonyX automatically logs generic information about your computer's connection to the Internet, which we call 'session data', that is anonymous and not linked to any personal information. Session data consists of things such as IP address, operating system and type of browser software being used, and the activities conducted by the user while on a symphonyX platform. This data is logged to track any user activity in symphonyX and also to analyse the performance of the system. It also helps us diagnose the performance of servers and lets us better administer our systems.
Cookies
Cookies are small files placed on your hard drive that assist in providing services. symphonyX offers certain features that are only available through the use of a "cookie". Most cookies are "session cookies," meaning that they are automatically deleted from your hard drive at the end of a session.
Personal Information
The information symphonyX receives may be used by us or shared by us with other third parties to help process your request; to comply with any law, regulation, audit or court order; to help improve our products or services we offer; for research; to better understand our customers' needs and to develop new offerings in which you may be interested. We may be required to share some information with government authorities and agencies for the purposes of verification of identity or for prevention, detection, investigation including cyber incidents, prosecution and punishment of offences. We do not share, sell, trade or rent any personal information to third parties for unknown reasons. Whenever we transfer any information to other third parties in the course of sharing information as set out above, we will ensure that the information is transferred in accordance with this Privacy Notice and as permitted by the applicable laws including but not limited to Information Technology Act, 2000 and the rules framed there under.
Partners
symphonyX may provide its customers some functionalities from third party solution/service providers through integration with their tools and services related to virtual meetings, online payments, emails, SMS, etc. symphonyX may share information such as name, email, or student/staff ID, that is required to access these third party functionalities.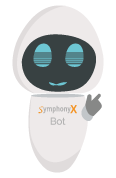 Still have questions? Download our e-Brochure or contact us for further details