FAQs
Why do we need to automate our classroom?
Is symphonyX a ready to use product or will the company develop it for us?
Can we easily migrate our data from our existing software or the institute's academic ERP to symphonyX?
Will students and teachers need special technical skills to use symphonyX?
What are the support options available with symphonyX?
Do we need to invest in any hardware if we use symphonyX platform?
How secure is the data in symphonyX?
Does symphonyX support distance learning?
We have limited IT resources. Do we need to hire a full time IT person?
Does Libsys provide training to the users?
Where will the system be hosted? Can it be done on AWS?
Can symphonyX be accessed from a mobile device?
What is the subscription plan that you provide?
How much does symphonyX cost?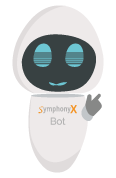 Still have questions? Download our e-Brochure or contact us for further details